The Future of Pathfinder Society Organized Play Part X: Dominance Through Trade
Monday, May 23, 2011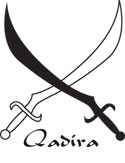 The western tip of the vast, continent-spanning Padishah Empire of Kelesh, the Satrapy of Qadira serves as the gateway between the wealth and resources of eastern Casmaron and the eager ports and markets of the Inner Sea. Its singular position as the funnel through which Casmaron's wealth f lows has painted Qadira's outlook on the world, and from the richest trade prince of Katheer to the lowliest caravan driver of the vast southern deserts, Qadirans recognize that the way to true power and influence is through trade and economic dominance. And no single city or nation is more strategically placed to rule the markets of the entire region than Absalom, which is why the satrap has invested substantial resources and his best agents in ensuring that Qadira gains control over trade in Absalom and—shortly thereafter—the entirety of Avistan and northern Garund.
The weekend is over and now there's profit to be made! And that's Qadira's bag. In many ways, it's the most accessible faction for those of us living in the real world, because, you know, we all understand how much power comes with money. It is nice, after all, to be able to buy the things you need and to charge what you think you're worth for the services you provide to others.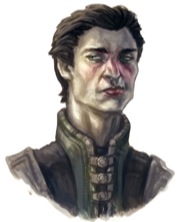 Illustration by Ryan Portillo
So we already talked about a few changes coming to some of the other factions, but Qadira is one of the two getting the largest shakeup. I don't want to spoil anything, especially in light of two new scenarios coming out later this week, but I will say this: the change is going to take place "on screen." So once people have played the scenario in which the proverbial stuff hits the fan, use this thread to discuss it. Just use spoiler tags, or at least charge your fellow Pathfinders a fee for the information you possess. After all, what true Qadiran wouldn't profit when profit can be had?
And you're likely wondering who the mysterious stranger is in this blog post. Well, I'm not going to say. At least not for free…
Come back next week for a look at how to get ahead in the Pathfinder Society, or how to take your time and enjoy the scenery a bit more. Next Monday's blog is likely to make a lot of players very happy.
Mark Moreland
Developer